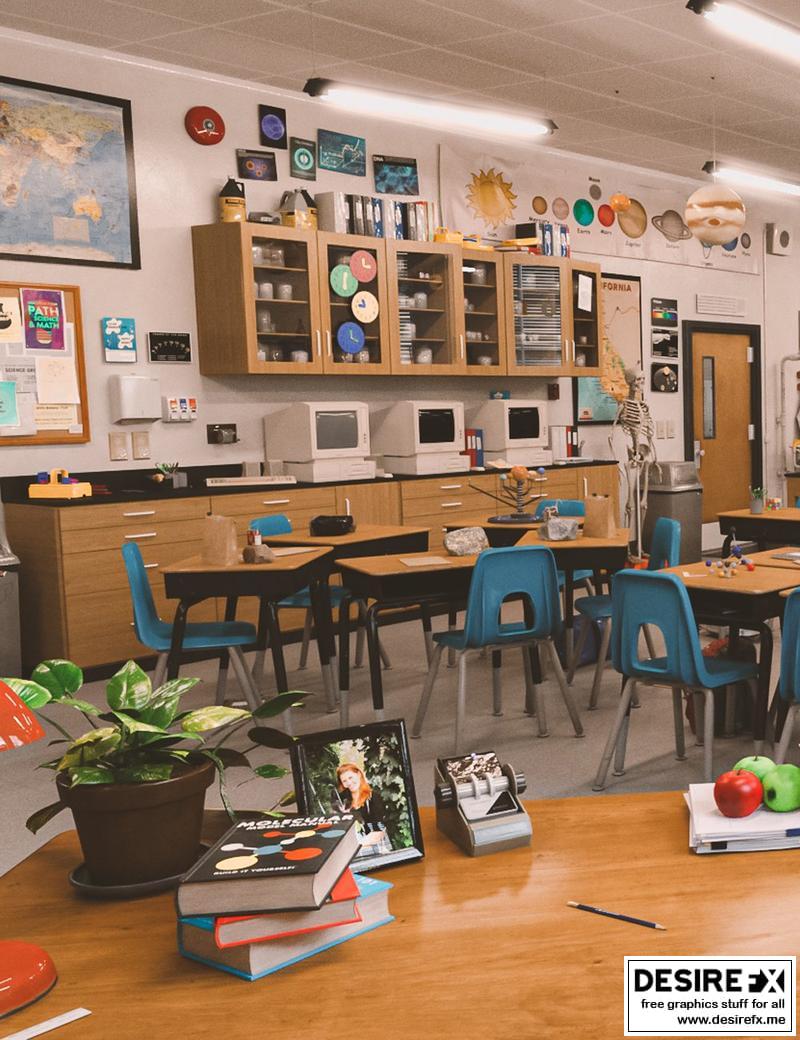 Home Page: _https://www.daz3d.com/classroom-props
Classroom Props
Compatible Software: Daz to 3ds Max Bridge, Daz to Unreal Bridge, Daz to Unity Bridge, Daz Studio 4.15, Daz to Maya Bridge, Daz to Blender Bridge, Daz to C4D Bridge
Details
Get ready to teach with Classroom Props.
This prop set is filled with everything you'd expect to find in a typical American classroom. These are things that the teachers and students use in every school day. And for the few props that seem a bit old school, they are indeed very useful.
Have fun playing and learning with Classroom Props!
Note: Iray Materials.
What's Included and Features
Classroom Props (.DUF)
Props:

HSSC Backpack
HSSC Banana
HSSC Binder 01
HSSC Binder 02
HSSC Binder 03
HSSC Book 01
HSSC Book 02
HSSC Book 03
HSSC Box 01
HSSC Box 02
HSSC Cabinet Art 01 A
HSSC Cabinet Art 02 B
HSSC Cabinet Art 02 D
HSSC Calculator
HSSC Calculator Case 01
HSSC Calculator Case 02
HSSC Chalkbox
HSSC Cleaning Supply 01
HSSC Cleaning Supply 02
HSSC Cleaning Supply 03
HSSC Cleaning Supply 04
HSSC Cleaning Supply 05
HSSC Coffee Maker
HSSC Computers
HSSC Cookingware 01
HSSC Cookingware 02
HSSC Cookingware 03
HSSC Cookingware 04
HSSC Flag
HSSC Green Apple
HSSC Juice Drink 01
HSSC Juice Drink 02
HSSC Lunch Bag 01
HSSC Lunch Bag 02
HSSC Lunch Bag 03
HSSC Metal Tray
HSSC Name Plate
HSSC Paper 01
HSSC Paper 02
HSSC Paper 03
HSSC Paper 04
HSSC Paper Holder 01
HSSC Paper Holder 02
HSSC Paper Roll 01
HSSC Paper Roll 02
HSSC Paper Roll 03
HSSC Paper Stack
HSSC Pencil Set 01
HSSC Pencil Sharpener
HSSC Pencils
HSSC Picture Frame
HSSC Plant 03
HSSC Plastic Container 01
HSSC Plastic Container 02
HSSC Plastic Container 03
HSSC Projector
HSSC Projector Screen 01
HSSC Projector Screen 02
HSSC Puzzle Cube
HSSC Radio
HSSC Red Apple
HSSC Rolodex Closed
HSSC Rolodex Opened
HSSC Ruler 01
HSSC Ruler 02
HSSC Ruler 03
HSSC Shelf
HSSC Shelf Tray
HSSC Stapler
HSSC Table Lamp 01
HSSC Tape Dispenser
HSSC Television Set
HSSC Trash Bin 02
HSSC Tray
HSSC Trophy 01
HSSC Trophy 02
HSSC Wood Ruler

Textures Include:

171 Texture Maps (4512 x 512 to 4096 x 4096)

Daz Studio Iray Material Presets (.DUF)
(Visited 155 times, 1 visits today)