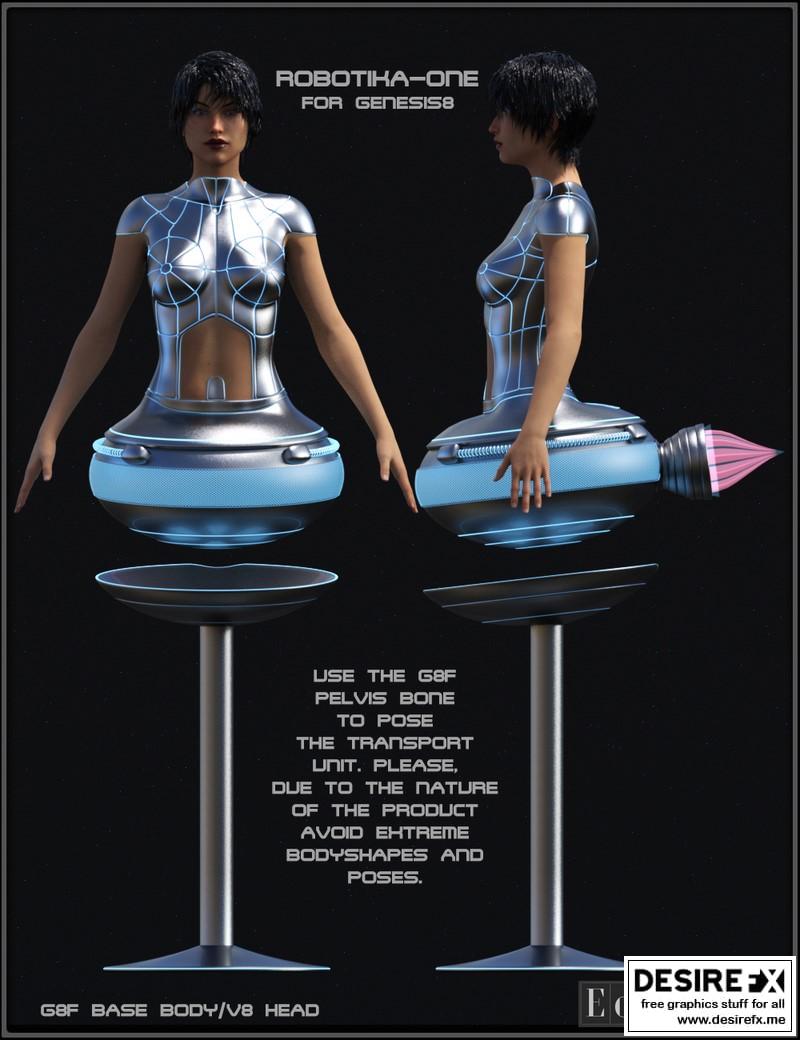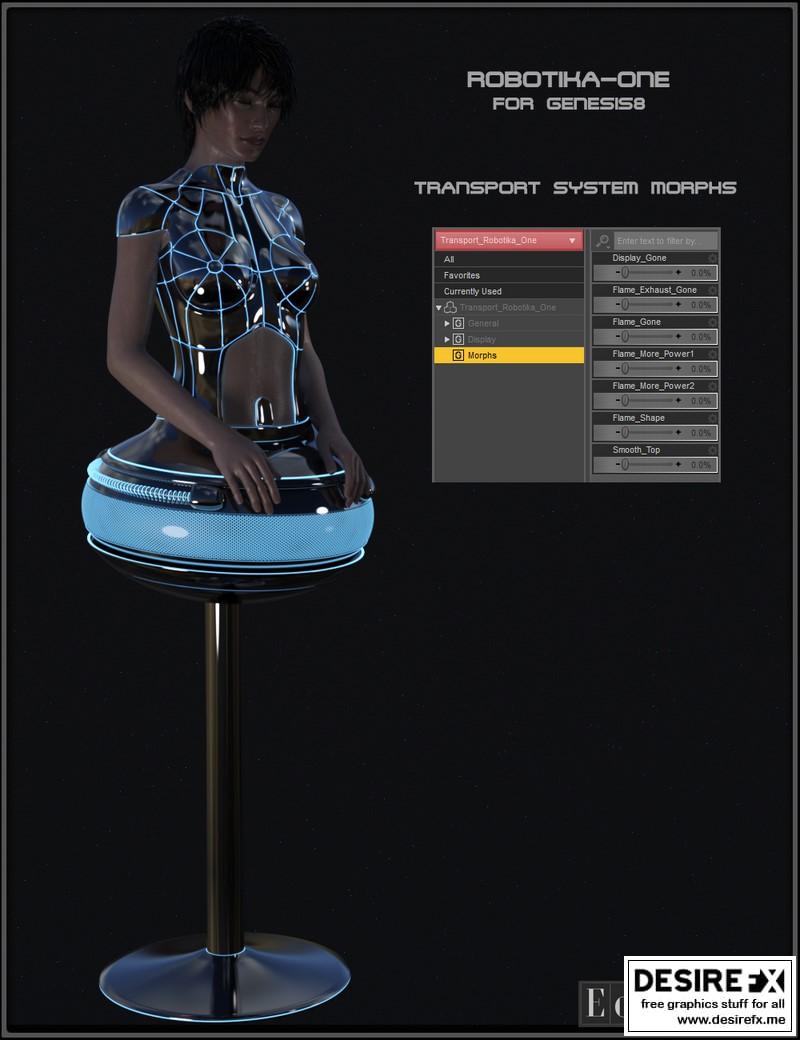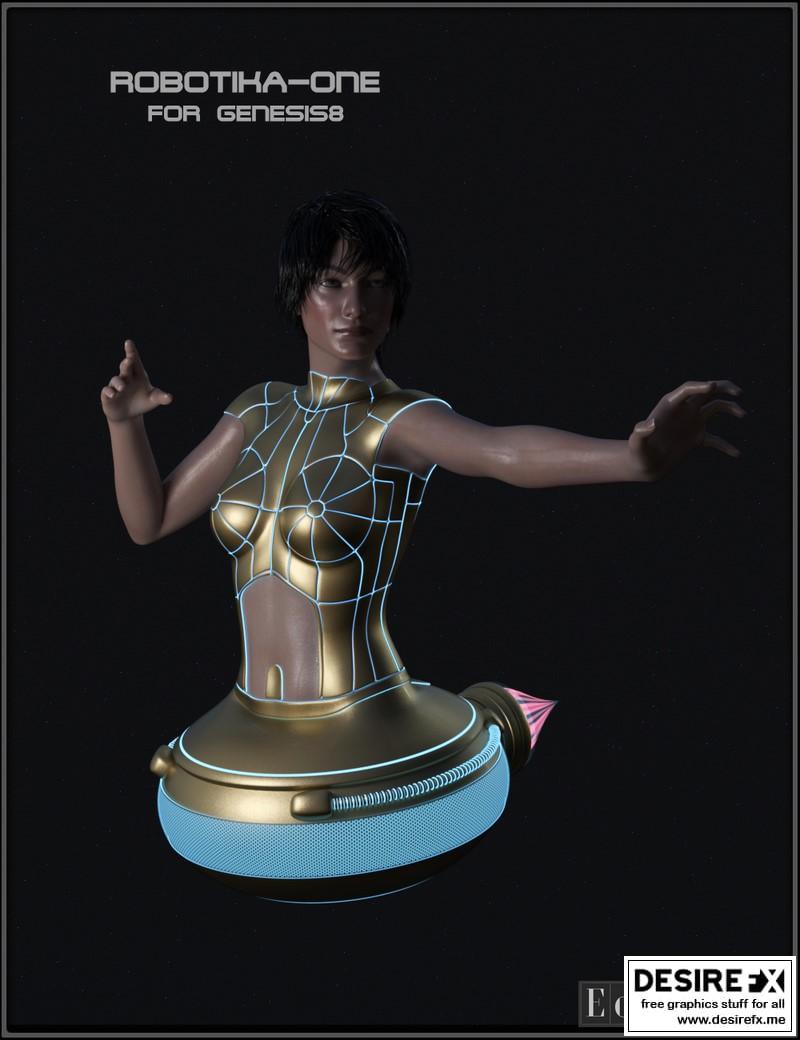 ROBOTIKA-ONE for G8F
Software:   DAZ Studio 4.9.4 (Needed for G8F/M)
Base Figures:  Genesis 8 Female, Victoria 8
Description
Robotika-One is the first of a new generation of complex SciFi clothing/mechanical set for Genesis 8.
Designed with versatility in mind, the Torso element of Robotika-One uses the same joint in neck and arms as the
Torso elements of the Prototype-ONE; TWO; THREE; FOUR; FIVE; X, which means that you can add flawlessly the Head; Arms and
Hands elements of all these products creating an infinity of possibilities.
This set is divided in three parts:
First Part, the character MATs presets
– 5 Character Presets
– 2 Show/Hide Legs Utility Poses
– 1 RestoreG8F Base Utility Preset
Second part, contains the 3 pieces of clothing/Mechanical Parts (Torso; Transport and Base Prop)
9 complete sets of high quality Iray MATs.
THe Transport part contains 7 adjusting morphs.
The whole set contains 72 MATs Zones for an infinite number of variations and configurations.
Third Part, contains nine wearable presets (one mouse click solution)
Package Content (under Clothing directory):
1_Torso
2_Transport
3_Base
MATs Iray (Clothing):
1_Synthetik_Skin (Torso; Transport; Base)
2_Pure_Gold (Torso; Transport; Base)
3_Pure_Chrome (Torso; Transport; Base)
4_Future_Chrome (Torso; Transport; Base)
5_Future_Gold (Torso; Transport; Base)
6_Rubycon (Torso; Transport; Base)
7_Prototype_White (Torso; Transport; Base)
8_Prototype_Black (Torso; Transport; Base)
9_Prototype_Red (Torso; Transport; Base)
MATs Iray (character):
! Restore_G8F_Base.duf (Restore G8F orginial state, depending of the number of G8F products installed time differs)
! Show_Legs.duf (Only modifiy the Opacity value of the Legs/Toenails surfaces)
! Hide_Legs.duf (Only modifiy the Opacity value of the Legs/Toenails surfaces), so you can use any G8F character for this).
1_Synthetic_Skin
2_Black_Matt
3_Prototype_White
4_Prototype_Black
5_Prototype_Red
MATs Iray (Character)/Eyelashes:
!Default
Blue
Invisible
Red
Wearable Presets: (one click full load solution, always select G8F base character before)
1_Synthetic_Skin
2_Pure_Gold
3_Pure_Chrome
4_Future_Gold
5_Future_Chrome
6_Black_Matt
7_Prototype_White
8_Prototype_Black
9_Prototype_Red
Notes:
Daz Studio Only Product (created in Daz Studio Pro 4.9.4.117 64bits version)
This product is not a Merchant Resource.
Always select G8F Base figure before apply any wearable preset.
The previous purchase of Victoria 8 is required !
By default the Transport and Base System match with default G8F Base bodyshape !
Please, due to the nature of this product, don't use extreme Heavy "Grand" Bodyshapes and Poses.
Please, Use the pelvis bone of G8F to pose the Transport system and leave Legs & Feet on zero pose.
For best render results, avoid lighting pointing directly to the subject and/or clothing and use low_key env. presets :=)
EdArt3D's Iray Pro Lighting MR with some slight modifications was used to create the promotional images.
DOWNLOAD FROM HOT4SHARE.COM
DOWNLOAD FROM SYNCS.ONLINE
(Visited 75 times, 1 visits today)