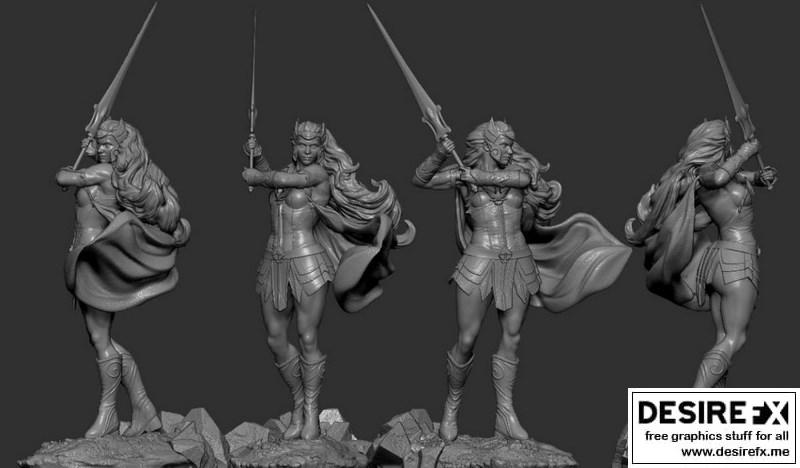 She-Ra The Princess of Power 3D Print Model
STL
She-Ra, also known as She-Ra: Princess of Power, is a fictional character and superheroine in the Masters of the Universe franchise. She made her debut in the animated television series "She-Ra: Princess of Power" that aired from 1985 to 1986. The character was created as a counterpart and sister to He-Man, the main protagonist of the Masters of the Universe series.
She-Ra's alter ego is Princess Adora, who was kidnapped as a baby and raised by the evil Horde army on the planet Etheria. However, when she discovers her true heritage as the long-lost twin sister of Prince Adam (He-Man), she joins the Great Rebellion to fight against the Horde's tyranny.
With the help of the Sword of Protection, Adora transforms into She-Ra, a powerful warrior with superhuman strength and various other abilities. She becomes the leader of the Rebellion and fights alongside her friends and allies to free Etheria from the control of the Horde and bring peace to the planet.
In 2018, Netflix released a rebooted animated series called "She-Ra and the Princesses of Power," created by Noelle Stevenson. The new series received critical acclaim for its diverse characters, compelling storylines, and positive representation. It expanded on the original series, delving deeper into the characters' backstories and relationships.
She-Ra has become an iconic figure for empowering female characters in the realm of animation and has amassed a dedicated fanbase over the years.
She-Ra The Princess of Power 3D Print Model
– This model is prepared and ready for 3D printing, it has been tested and is good to go.
– Check the schematic and images for more information.
– I have divided 10 individual parts to make 3D printing easy.
– STL files are ready for 3D printing.
– Thanks very much for viewing my model. Hope you guys like it.
– Best regards!