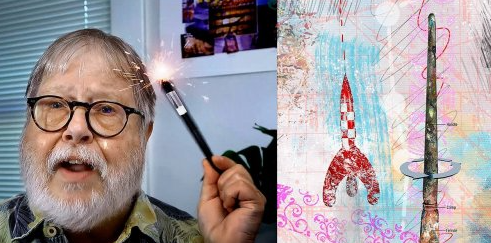 Expressive Collages in Photoshop 101: Bold Brush Strokes, Masks, and Composition
File Size :1.2GB | Genre: eLearning | Language: English | Photoshop | MP4
Do you dream about expressing your thoughts and emotions in a visual manner? Not sure how you would go about making this leap from idea to image? Don't know what tools might get you there?

In this class you'll:
• Use yourself as a source of inspiration.
• Select a group of favorite items that represent you.
• Find images or take photos of your favorites.
• Use Photoshop to create a composition using your favorites.
• Use layer masks to add character to the images of your favorites,
• Embellish your collage with expressive brushstrokes.
• Admire your finishes collage!
If your'e thinking that this is beyond your skill level, I'm here to tell you that you CAN do this and I'm going to teach you how.
We're going to utilize a unique approach to image composition that will make it easy for you to arrive a novel arrangement of your visual elements.
We'll be using Photoshop for this class. You'll need access to a Wacom or compatible tablet and pressure-sensitive stylus. I'll provide a set of Photoshop brushes that I've created just for this class. And we'll look at how to get the greatest range of expressibility out of your stylus. Personal artistic expression is just a brush stroke away!
If you are new to digital tools, then your "bag of tricks" is probably empty. My goal is to supply you with an initial set of tricks that you can add to your bag. Once this happens and you continue working on new artwork, you'll find that your bag of tricks will continue to grow.
Content Source:
https://www.skillshare.com/classes/Expressive-Collages-in-Photoshop-101-Bold-Brush-Strokes-Masks-and-Composition/240000631