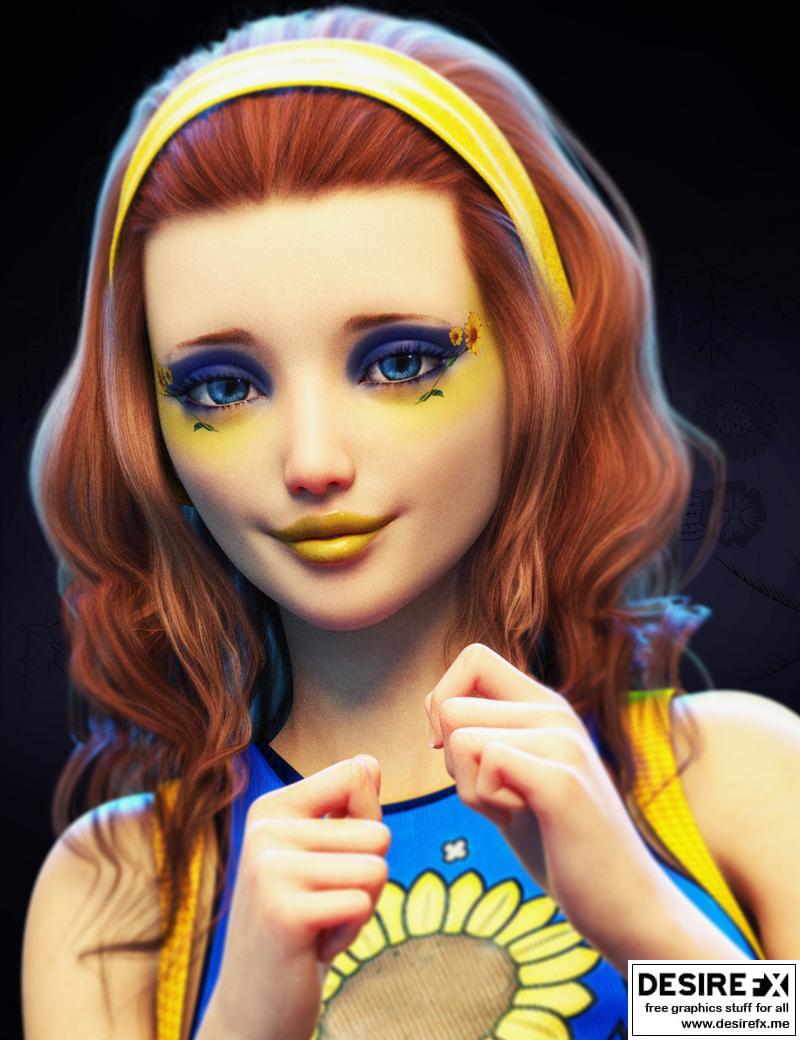 Home Page: _https://www.daz3d.com/fpe-sunflower-lie-makeup-genesis-8-and-81-female
FPE Sunflower LIE Makeup Genesis 8 and 8.1 Female
Compatible Figures: Genesis 8 Female, Genesis 8.1 Female
Compatible Software: Daz to Unity Bridge, Daz to Unreal Bridge, Daz Studio 4.22, Daz to 3ds Max Bridge, Daz to Blender Bridge, Daz to C4D Bridge, Daz to Maya Bridge
Details
FPE Sunflower LIE Makeup for Genesis 8 and 8.1 Females is a collection of Iray LIE (Layered Image Editor) presets inspired by sunflowers. The makeup set is not only carefully designed to blend with any skin color, but it's also compatible with Genesis 3 characters!
In total, the set consists of 18 distinct and artistic eyeshadows, 11 lipstick designs, and 14 motif decorations for the cheeks and forehead. In addition, we included options to tweak the metallicity of the final looks! With the ability to mix and match the designs included in this set, the combinations are endless. Create a bright and sunny look with this sunflower-themed set!
Note: There are 2 presets to prepare the metallicity channel. It's important that if your character uses the PBRSkin shader, you apply the correct metallicity preset. Many Genesis 3 characters do not come with normal maps, so we've included a preset to apply an empty normal map to avoid seams when applying some of the presets.
What's Included and Features
FPE Sunflower LIE Makeup for Genesis 8 and 8.1 Females:
Iray Materials Presets:

Sunflower Makeup 01 Apply Empty Normal
Sunflower Makeup 01 Apply Metallicity PBRSkin
Sunflower Makeup 01 Apply Metallicity
Sunflower Makeup 03 Metal Strength Full
Sunflower Makeup 03 Metal Strength High
Sunflower Makeup 03 Metal Strength Med
Sunflower Makeup 03 Metal Strength Low
Sunflower Makeup 03 Metal Strength OFF

Iray Layered Image Editor (LIE) Materials Presets:

Sunflower Makeup 02 LIE Artistic Cheeks Combined
Sunflower Makeup 02 LIE Artistic Cheeks
Sunflower Makeup 02 LIE Artistic Crown
Sunflower Makeup 02 LIE Artistic Eyes 01 Asymmetric Left
Sunflower Makeup 02 LIE Artistic Eyes 01 Asymmetric Right
Sunflower Makeup 02 LIE Artistic Eyes 01
Sunflower Makeup 02 LIE Artistic Eyes 02
Sunflower Makeup 02 LIE Artistic Eyes 03
Sunflower Makeup 02 LIE Artistic Eyes 04
Sunflower Makeup 02 LIE Artistic Eyes 05
Sunflower Makeup 02 LIE Artistic Eyes 06
Sunflower Makeup 02 LIE Artistic Eyes 07
Sunflower Makeup 02 LIE Artistic Eyes 08
Sunflower Makeup 02 LIE Artistic Eyes 09
Sunflower Makeup 02 LIE Artistic Eyes 10
Sunflower Makeup 02 LIE Artistic Lips 01
Sunflower Makeup 02 LIE Artistic Lips 02
Sunflower Makeup 02 LIE Artistic Lips 03
Sunflower Makeup 02 LIE Artistic Lips 04
Sunflower Makeup 02 LIE Artistic Lips 05
Sunflower Makeup 02 LIE Artistic Lips 06
Sunflower Makeup 02 LIE Dramatic Eyes Combined
Sunflower Makeup 02 LIE Dramatic Eyes Hard
Sunflower Makeup 02 LIE Dramatic Eyes Soft
Sunflower Makeup 02 LIE Flag Cheek Left
Sunflower Makeup 02 LIE Flag Cheek Right
Sunflower Makeup 02 LIE Glam Eyes Blue
Sunflower Makeup 02 LIE Glam Eyes Yellow
Sunflower Makeup 02 LIE Glam Eyes
Sunflower Makeup 02 LIE Glam Lips Alt
Sunflower Makeup 02 LIE Glam Lips
Sunflower Makeup 02 LIE Glam Lips Blue
Sunflower Makeup 02 LIE Glam Lips Yellow
Sunflower Makeup 02 LIE Heart Cheek Left
Sunflower Makeup 02 LIE Heart Cheek Right
Sunflower Makeup 02 LIE Heart Eye Left
Sunflower Makeup 02 LIE Heart Eye Right
Sunflower Makeup 02 LIE Heart Flower Cheek Left
Sunflower Makeup 02 LIE Heart Flower Cheek Right
Sunflower Makeup 02 LIE Heart Flower Eyes
Sunflower Makeup 02 LIE Heart Lips
Sunflower Makeup 02 LIE Hearts Flowers Cheek Left
Sunflower Makeup 02 LIE Hearts Flowers Cheek Right

Scripts: (.DSA)

Sunflower Makeup 04 LIE Remover

Documentation:

Sunflower Makeup 00 Genesis 3 Compatibility
Sunflower Makeup 00 PBRSkin Presets

Texture Include:

106 Base Color, Specular, Metallicity, and Normal Maps (4096 x 4096)
This product requires the Genesis 8 and 8.1 Base Female UVs

Daz Studio Iray Material Presets (.DUF)
Daz Studio LIE Presets (.DUF)
Zip file size: 94.1 MB
Notes